Pre-galvanized H frame scaffolding ladder working platform
Product Detail
Product Tags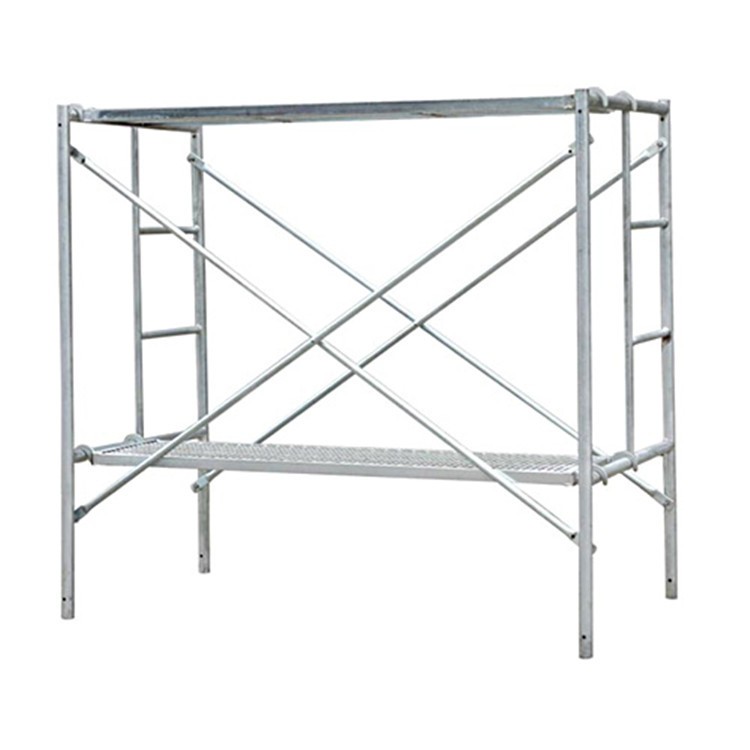 Specification
| | |
| --- | --- |
| | |
| | |
| | |
| | Online technical support, Onsite Installation, Onsite Inspection, Other |
| Project Solution Capability | |
| | Hotel,office building,school,mall,warehouse |
| | |
| | |
| | |
| | |
| | |
| | Folding Ladders, Insulation Ladders |
| | |
| | |
| | Foldable scaffolding ladder working platform |
| | Hotel,office building,school,mall,warehouse |
| | |
| | |
| | |
| | |
Precautions for erecting scaffolding
1. The foundation of H frame scaffolding must be tamped, and drainage slopes should be made to prevent water                accumulation.
2. The erection sequence of H frame scaffolding is: foundation preparation → placement of backing board → placement  of base → vertical two-sided single-piece door frame → installation of cross bar → installation of scaffolding board →      repeat installation of the door frame, cross bar, and scaffold board on this basis .
3. Steel pipe scaffold should be erected from one end to the other end, and the upper step scaffold should be completed    after the lower step scaffold is erected. The erection direction is opposite to the next step.
4. For the erection of scaffolding, first insert the two H frames on the base of the end points, and then install the cross      rods to fix them, lock the lock plates, and then set up the future H frames, and install the cross rods immediately after      each kick. And lock piece.
5. The scaffolding must be set up to be reliably connected to the building.
Advantage
1) The geometric dimensions of H frame scaffolding are standardized. 
2) The structure is reasonable, the force performance is good, the strength of the steel is fully utilized, and the bearing      capacity is high.
3) Easy assembly and disassembly during construction, high erection efficiency, labor-saving, time-saving, safe,reliable,  and economical.
---
---